My Story – a reasonably full account of my life:
I was born into a working-class home in Southeast Pennsylvania in 1948. Being brought up in a stable and safe environment, I benefited from learning Christian values from an early age. I made an early profession of faith in Jesus Christ and learned faithful attendance and participation in church. I have 2 siblings – one sister and one brother, both younger. Although I enjoyed school and sports, playing the trumpet and later working at odd jobs occupied much of my time. This taught me discipline, structure, tenacity and gave me a sense of confidence and achievement.
Upon graduation from high school I attended Houghton College in upstate New York, where I met my devoted wife Judy. I studied business administration and economics and was awarded a Bachelor of Science in 1970. While working my way through college, I ran a small animal grooming service, worked in a manufacturing company (piecework) and an oil refinery (labor/accounting). Foll
owing college and before entering the military, I married my wife of now 42 years.
Serving as an officer in the United States Navy from 1970 – 1975, I trained as a naval aviator. Just 4 weeks prior to earning my wings, the flight training program was unexpectedly frozen for a period of over 3 months. During this time I learned of positions available in the Naval Investigative Service, who had been authorized to utilize junior officers as special agents due to a hiring freeze for civilians. My work as a special agent provided a broad spectrum of working environments and relational challenges. For instance, working an investigation required interviews and interrogations of the full range of Naval personnel and civilian employees. Briefings often gave exposure to those in higher commands.
During my stint in the Navy, our 1st daughter was born and I was developing a sense of unrest. It seemed as if my investigations were successful on the one hand – I was solving crimes, especially narcotics offenses. But on the other hand, there were many repeat offenders, most of whom seem to be lost and confused. I sensed a calling to make a different and better contribution to society in general and especially to the work of God.
My contract with the Navy being fulfilled, I entered seminary to pursue a career of counseling. As I learned about the pastoral ministry, I sensed a call to meet the needs of people through preaching the Word of God, with a pastoral focus. My academic preparation was achieved at Biblical Theological Seminary, near Philadelphia, Pennsylvania. In 1979 I was awarded a Master of Divinity (with honors). Together with the VA benefits and full-time employment, I was able to provide for the needs of my family and finish the course of study in 4 years. During these years, 2 more daughters were added to our family; our 4th child was a son, born in 1983.
In 1980 I was licensed by the Reformed Presbyterian Church (Evangelical Synod) and ordained by the same body in 1981. In 1982 the Reformed Presbyterian Church joined with the Presbyterian Church in America; I continue to serve as a Teaching Elder (pastor and church planting missionary) with this Church.
During my 1st pastorate I began to pursue a Doctor of Ministry program at Covenant Theological Seminary in St. Louis, Missouri. I earned this degree just prior to leaving for Australia where I served as a church planter, pastor, consultant and instructor from 1986 – 1990. I worked with a team which established 4 congregations and a theological training school in the suburbs of Sydney. I have since served congregations in Ohio, Delaware, Australia, Pennsylvania, Tennessee, Georgia and New York.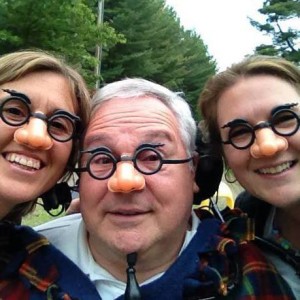 In May 2010, while riding a bicycle for exercise, I suffered an injury which compressed my spinal cord and left me paralyzed from my shoulders down. Spending the next 13 months in the hospital and rehabilitation, gave me a renewed appreciation for the Veterans Administration and exposed me to the need for and importance of the chaplain ministry. Although I continue to experience the effects of my injury, I see this as an opportunity for ministry and sense a calling outside of ministry in a local church. In a previous pastorate I served as part-time and occasional chaplain at a civilian medical center. This afforded me some exposure to the chaplain ministry. Not only was this rewarding to me, but I believe it was also helpful and encouraging to patients and staff.
In June 2011 I returned from the hospital and continued my pastoral ministry in a local church. Since then my family (especially my wife), friends and colleagues have been supportive and encouraging. I have learned to master the technology available to me through the VA and other sources. I utilize a power wheelchair, computer with voice recognition software and other adaptive equipment to accomplish my work. I am currently able to work relatively long hours and regularly sit in my wheelchair for over 12 hours per day.
I thank God for the benefits he provides for me day by day. I'm grateful for my faithful and loving wife, supportive family and friends and especially the opportunities to work and be productive. Although my injury has presented me with certain challenges and hurdles, I did not see these as a handicap. Rather, I see that God is moving me to a different kind of ministry – one for which I am uniquely suited. I anticipate a fruitful and effective ministry.